If your villa in Spain is located in the Denia or Javea region of the Costa Blanca and you either currently rent out your villa or thinking of doing so, Spanish Villa Property Management CB is a company that specialises in Property Management in Javea and Property Management in Denia. We specialise in providing a one stop shop and total care package of private villas in the areas of Pedreguer, Monte Pedreguer, La Sella, Gata de Gorgos, Benitachell, Javea, Denia and Moraira areas
Your home in Spain is likely to be one of the major investments of your lifetime and as with all investments, it needs to be managed in a professional way. You may be already renting your property, or you may even be thinking about entering into the rental business and maximising the return on your investment or simply wishing to offset some of your costs. Whatever it is that you need, Spanish Villa Property Management can provide you with a service we think you will find hard to beat.
Not only do we take total care of your home, we also provide a rental service as you will have seen from this website. We have been doing so for the past seventeen years and many of our original clients are still using our services.
Handing your keys over to people you hardly know is a big step and requires a great deal of trust, but to give you piece of mind we are quite happy for you to contact our current villa owners for them to tell you what they think about us and to demonstrate how they came to trust in us. We are your eyes in Spain and will always advise you if we think something in, on or around your villa needs attention.
If you currently use a management company and worry about your villa, then it is probably because you do not entirely have confidence in the people you are using. Our business is to ensure that your villa, your pool and your investment is cared for just as you would like it to be. We are local and are here 24/7 doing just that and it is our objective to give you absolute confidence in us and remove those worries.
We offer a service second to none. We have people to cater for most of your needs. We offer you a "one stop shop" rental and Management package and our services include but not limited to: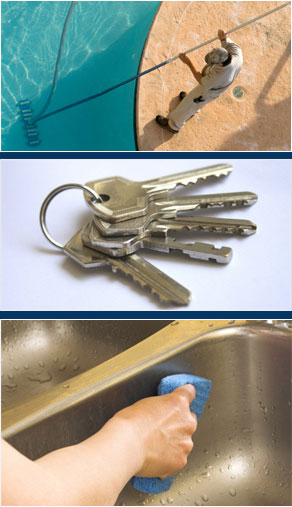 Pool Maintenance
Project Management
Painting and decorating
Air Conditioning installation
Electrical repairs or new installations
Pool Construction
Building and Construction
Garden Maintenance
Furniture buying
Plumbing & heating repairs or new installations
The list is endless really and whatever your requirements are we are able to provide you with a solution. Take a look at these photographs, these are some of the recent projects we have completed for our owners.
Villa Rental
Renting your property is a great way to recovering all your costs or generating an income. If you have never done this before and would like an informal chat to dispel some of the worries or concerns you may have, we are only too pleased to take your call.
Telephone us on 0034 696 706 600 & 0034 653 192 604.
Over the last three seasons we have continually increased, year on year the number of weeks booked.
We have a regular returning clientele. We now wish to add to our portfolio more quality villas. If you have a busy working life, or even if you don't, but would like to hand over all the day to day worry of your property in Spain to a company that cares and if you think a one stop rental & management package is of interest to you, we would love to hear from you. You will be pleasantly surprised just how competitive we are.